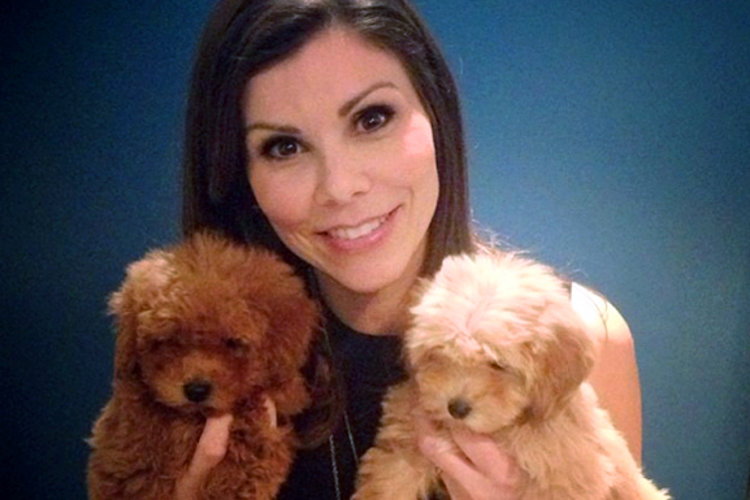 Shown above are pictures of our two Goldendoodle puppies "Oscar & Champs" with Heather Dubrow. Heather Dubrow is a TV Reality star on "
The Real Housewives of Orange County, also known as the RHOC."
Heather is married to my
("Lisa" I'm the breeder)
amazing doctor
"Terry Dubrow, "
star of his own TV Reality show called "
Botched."
Reality TV stars Heather & Terry Dubrow own
"two"
of our amazing Goldendoodles named "Champers" and "Oscar."
We had a blast delivering Terry and Heather's two gorgeous baby Goldendoodles to them on the show "
The Real Housewives of Orange County."
Me "Lisa"
(I'm the breeder)
took my daughter Lindsey and my step daughter Haylee with me to deliver the puppies to Terry and Heather's house in New Port Beach, CA on the show. Terry asked me to surprise their children on the show, which I didn't have a problem doing, since I'd already been a patient of Terry's for many years prior to him being on reality TV, so we already had an established relationship.
"Oscar & Champers" Update!
I'm often asked what ever happened to Terry & Heather's dogs, well while my amazing doctor
"
Terry Dubrow
"
& his gorgeous wife
"
Heather Dubrow
"
are building their new mansion, we're babysitting their two adorable babies for them, although they're not really babies anymore! Once their house is finished you'll see them back on the show!
The following was copied off of Bravo's "The Daily Dish"
click to view in new window
"Meet the newest members of the Dubrow family!#OSCAR #CHAMPERS (CHAMPS for short!) #anothersetofboygirltwins #RHOC," Heather wrote on Instagram. Terry and I have rescued many animals in our lives," she commented on the photo above. "These particular dogs came to us through a patient of Terry's who is a wonderful reputable breeder and NOT a puppy mill. We are very blessed to have them. I understand people with strong feelings about adopting pets. The children met them one day and just fell in love! Trust me, I wasn't looking to take on any more poop to clean up! I have 4 kids!!! Having said that, the dogs have already brought us so much joy."